The DELF (Diplôme d'Etudes en Langue Française) and DALF (Diplôme Approfondi de Langue Française) are official diplomas issued by the French National Education Ministry to certify French language skills for foreign candidates.
The DELF and DALF comprise 6 independent diplomas, corresponding to the six levels of the Common European Framework of Reference for languages (CEFRL). Each candidate, according to his/her level, can register directly for the desired examination with no prerequisites.
Duration of exams

DELF/DALF

CEFRL

User

3 h 30

DALF C2

C2

Proficient User

4 h 00

DALF C1

C1

2 h 30

DELF B2

B2

Independent User

1 h 55

DELF B1

B1

1 h 40

DELF A2

A2

Basic User

1 h 20

DELF A1

A1
For each level, the 4 skills are assessed: listening, speaking, reading and writing.
The Alliances Françaises in India are among the 900 authorized examination centres for DELF DALF spread over 154 countries across the globe.
If you want to know which diploma corresponds to your level, we suggest the following:
The Alliance française of Madras offers the following versions of the DELF:
DELF PRIM: 7 to 11 years old

DELF JUNIOR: 11 to 17 years old

DELF TP: 17+ years old
Since January 2021, the DELF PRO is no longer offered by France Education International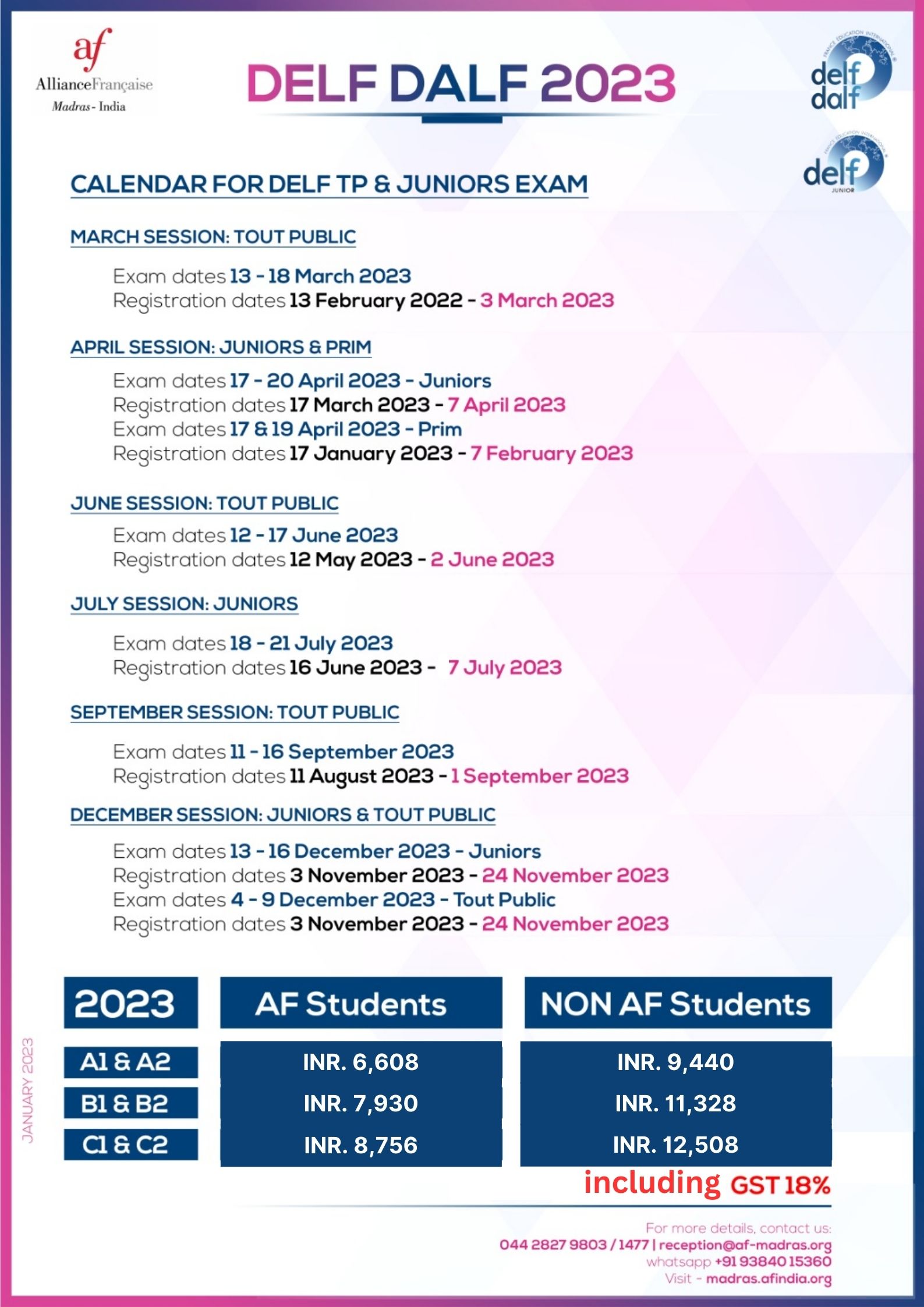 To register
Download the registration form for DELF DALF September 2023 session. Click here 
Print, fill in and sign the application; first two pages of the document.

Rules and regulations: Read this document containing the rules and regulations governing DELF and DALF examination carefully. By registering and applying to the DELF DALF exams you confirm that you have read these rules and regulations and confirm to abide by these.

Visit the reception of Alliance Française of Madras with the filled in application form, 2 passport size photos(recent), one clear recent photo ID proof and your payment which can be accepted in cash, bank card, UPI or bank transfer.
If you are unable to visit in person, you may courier the documents to The reception, Alliance Française of Madras, 24, College Road, Nungambakkam, Chennai – 600006.
Preparing the exam
The Alliance Française of Madras does not organize any specific preparation courses for DELF DALF exams. General French classes are strongly recommended.
To discover or/and get trained to the exam, you can download some exam samples from that webpage: FEI
You can also purchase the following official textbooks for preparation from the reception of AF Madras:
DELF A1 : 

"

Réussir le DELF A1

" (Didier)

DELF A2 : 

"

Réussir le DELF A2

" (Didier)

DELF B1 : 

"

Réussir le DELF B1

" (Didier)

DELF B2 : 

"

Réussir le DELF B2

" (Didier)

DALF C1 / C2 : 

"

Réussir le DALF C1/C2

" (Didier)
Results
The results of the DELF DALF exams are announced about one month after the exam. They will be available at the Alliance Française of Madras and posted on our website www.madras.afindia.org. DELF DALF exam results will not be communicated over telephone or by e-mail.
The candidates can collect their attestation (on successful completion), upon receiving an email regarding the same from the Alliance Française of Madras.
You can collect the certificates  of the DELF DALF exams from the reception of  the Alliance Française of Madras about 4 or 5 months after the exam. Unclaimed certificates will be sent back to France. If you cannot come personally, you can ask anyone close to you to do so. He/ she must have an authorisation letter  written by you to collect the certificate as well as an identity proof. NO certificate will be sent by post.
Results of the DELF DALF Sessions:
2023
June – DELF DALF TP
March – DELF DALF TP
2022
December – DELF DALF TP
September 2022 DELF TP
July 2022 DELF TP
June 2022 DELF TP
April 2022 Delf Juniors
March 2022 DELF TP