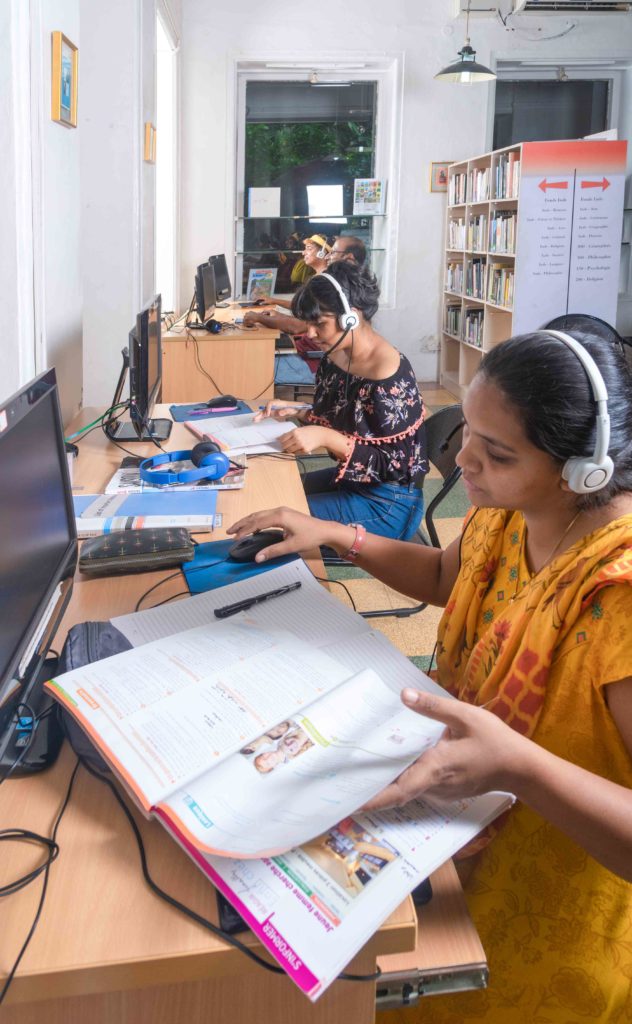 Become a member at AFM library, click here for membership form.
Ours is not just another library, but a veritable cultural & intellectual melting pot, thronged by people of different nationalities, age groups, professions & intellectual orientations. Located at the heart of one of the most happening places in Chennai, the library houses  a collection of over 6,200 books on various subjects like Philosophy, Psychology, Social Sciences, Science & Technology, French Language, Translation, Music, Art, Cinema, Literature, Children's Literature etc. A major part of the collection is in French, yet we do have a considerable number of English books as well.
The Children's section with nearly 1,000 books, is reserved exclusively for youth and children, wherein they find not only a galore of documents suitable for their age, viz. novels, comics, albums, film DVDs & music CDs, but also games & soft toys. The books in easy French are classified according to the skill level of the students of A1, A2 and B1.
The Audio-Visual Room in the library with nearly 1,264 audio & video supports include the best of French cinema, documentary & contemporary French music. Here, we have 3 LED televisions with DVD players & a video cassette player for watching films and documentaries. The visitors may also listen to different genres of contemporary French music.
With an annual subscription to nearly 5 French magazines, pertaining to different disciplines like current affairs, pedagogy, children's literature etc. we cater to the tastes & requirements of all our members.
The "Fonds Compréhension Orale" section, with a plethora of audio books, helps the students in improving their French pronunciation.
The "Language" section with a good collection of French text books and grammar books is a real boon for the students learning French to hone and perfect their French language skills.
The "Inde" section contains many prominent contemporary & ancient Indian literary works in French.
Access:
Access to library is free and open to all people interested in French Language, France and Francophonie.
However, only the members of the library can borrow the documents.  For availing certain facilities of the library, like accessing internet, watching films or documentaries etc. a non-member might be asked to produce a valid Identify proof (Voter ID card / Employment ID card / Driving Licence / PAN Card).