"In order to help you to prepare yourself to e-TEF, TEF Canada, DFP B2, Alliance Française of Madras is partnering with the e-learning test preparation platform Prepmyfuture!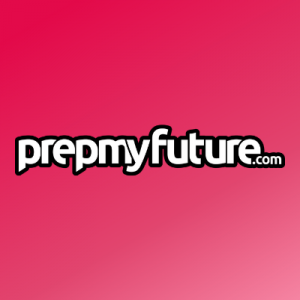 Prepmyfuture is an ONLINE platform which allows you to autonomously prepare for specific exams/tests with the following features:
STUDY PLAN: Design and execute your study plan.
LESSONS and ACTIVITIES: Review key grammar points and practice the same through course sheets and exercises that are organized by concepts.
TESTS: Diagnose your level via mock exams
ANALYTICS: Identify your weaknesses through immediate detailed feedback.
Prepmyfuture is a private learning institute that aims at providing a new generation of online study materials through the recent development of online technologies.
They have recently teamed up with the Chamber of Commerce and Industry of Paris in order to promote French as a tool for professional communication. This platform has been adopted by hundreds of schools, including École Polytechnique, HEC Paris, IÉSEG-School of Management, and EDHEC-Business School.
This online platform will help you to prepare for your exams with its adaptive content and dedicated e-learning material.
The Prepmyfuture online study kit can be purchased for the following exams:
e-TEF Preparation Modules
DFP Preparation Modules (A1-B2)
Any candidate who wishes to prepare for the e-TEF or DFP B2 exams and/or wishes to complement their French learning experience can choose to buy the e-learning kit offered by Prepmyfuture directly through our website.
How to get the access to PrepMyFuture?
Option 1 – Visit the reception and get your registration processed. Timings : Mon – Sat between 8:30 am – 6:30 pm
Option 2 – Register and pay online, INR 4000.00 for TEF module / INR 6000.00 for DFP module, by bank transfer or UPI
ICICI BANK (for IMPS & NEFT transfers)
A/c Name : Alliance Francaise of Madras
A/c type : Savings
Bank Name: ICICI
Bank A/c Number : 000901108959
IFSC Code : ICIC0000009
Branch : Nungambakkam Branch
or
BNP PARIBAS (only NEFT transfers)
A/c. Name : Alliance Française of Madras
A/C type : Savings
A/C Number : 09088 060003 025 44
IFSC Code : BNPA0009088
Bank details : BNP PARIBAS
Branch : Chennai Branch
or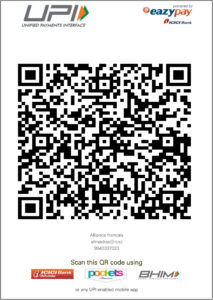 Once the payment is done, please send us an email to [email protected] including :
– your full name
– the email address you wish to be contacted at
– the module you are enrolling to (e-TEF or DFP B2)
– Your mobile number
– the Bank Acknowledgement
You will receive an email confirming your registration after the bank acknowledgement is received and your registration is processed.
NOTE: You can only choose ONE module (e-TEF or DFP) on purchase of one code.
Following this mail, you shall receive your access code via mail within 24 working hours. Please check the INBOX/SPAM of your mail for the same.
You can change the language setting (French ↔ English) by following the steps given below:
The access code will be VALID for a period of ONE YEAR from the time of activation.
STEP 1 – Login with the access details received via mail
STEP 2 – Click on Mon Compte/My Account (on the top right corner)
STEP 3 – Select Gérer mon compte/Manage my account
STEP 4 – In the Changer la langue par défaut/Change the default language section, select your preferred language – Français/English
STEP 5 – Lastly click on Modifier/Edit
Once you receive this code, you will have access to hundreds of course sheets, self-corrected exercises and mock exams!