You can now pre-register for your French Classes online and confirm your seat! All you need to do is to follow these simple steps:
Step 1: Click here to choose your course. Make a note of your course code.
(Note: Those who already have knowledge of basic French, kindly contact the reception to take up a LEVEL TEST)
Step 2: Click the PRE-REGISTER NOW button below.
Step 3: You will be directed to the registration form. Fill in the necessary details.
Step 4: You will receive a confirmation email upon registering within 48 hours.
Please note that your admission to the course gets confirmed only upon payment of the course fees.
You will have to make the payment within 3 days of pre-registration for confirmation of your enrolment in the course selected by you.
You can make the payment through either of the following ways –
1. By Cash / Cheque at the reception desk of the AFM
Timings : Mon – Sat between 8:30 am and 6:30 pm
2. By Bank Transfer :
ICICI BANK (for IMPS & NEFT transfers)
A/c Name : Alliance Francaise of Madras
A/c type : Savings
Bank Name: ICICI
Bank A/c Number : 000901108959
IFSC Code : ICIC0000009
Branch : Nungambakkam Branch
BNP PARIBAS (only NEFT transfers)
A/c. Name : Alliance Française of Madras
A/C type : Savings
A/C Number : 09088 060003 025 44
IFSC Code : BNPA0009088
Bank details : BNP PARIBAS
Branch : Chennai Branch
3. By UPI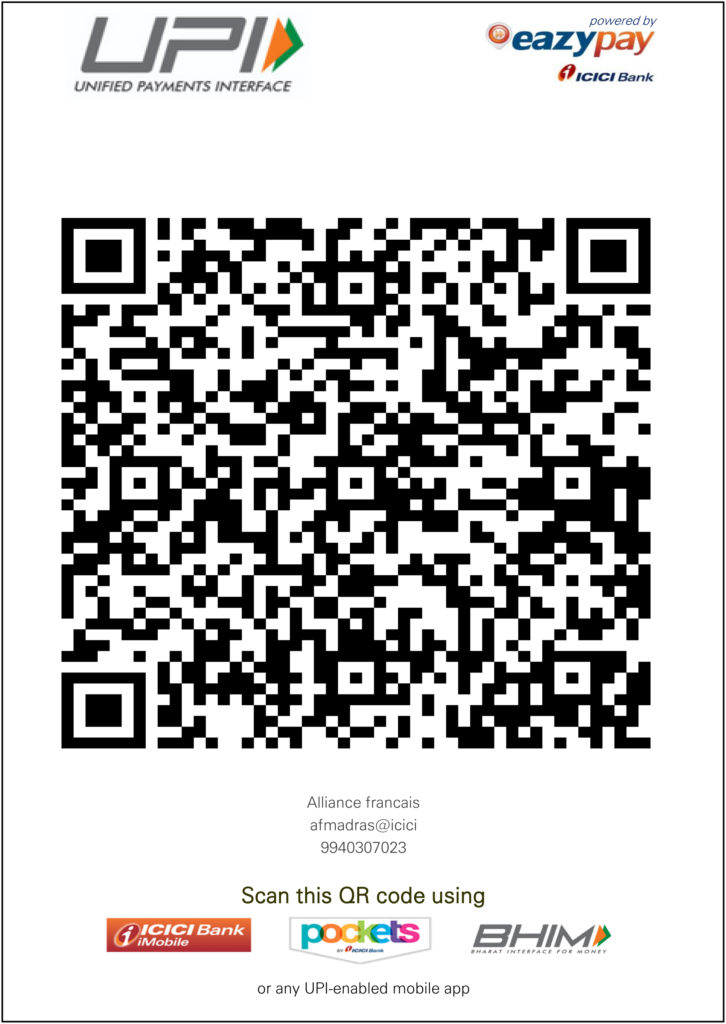 For payment done through online transfer, please send the Bank Acknowledgement to our Accountant at [email protected]. You will receive an email confirmation only on receipt of the bank acknowledgement.
Step 5: Kindly collect your receipt and books at the Reception on the first day of class. You must have your registration confirmation with you.
If you have any enquiries regarding your course, please do not hesitate to contact us +91 44 2827 98 03 / 2827 14 77 or [email protected]

Terms and Conditions – Click here
You can transfer the fee to our bank account and send a confirmation with the transaction details to the following email id's: [email protected] and [email protected]