Date/Time
Date(s) - 15/03/2017
7:00 pm
Location
Edouard Michelin Auditorium - Alliance Francaise of Madras
Categories
CELEBRATING FRANCOPHONIE!!!
Alliance Française of Madraswith the support of Saint-Gobain as AFM Gold Sponsor, The Park Chennai as Hospitality Partner & Eventjini.com as Online Partner
present a World Music Concert by
MAZEL B
Entry free and open to all! Free passes available on eventjini.com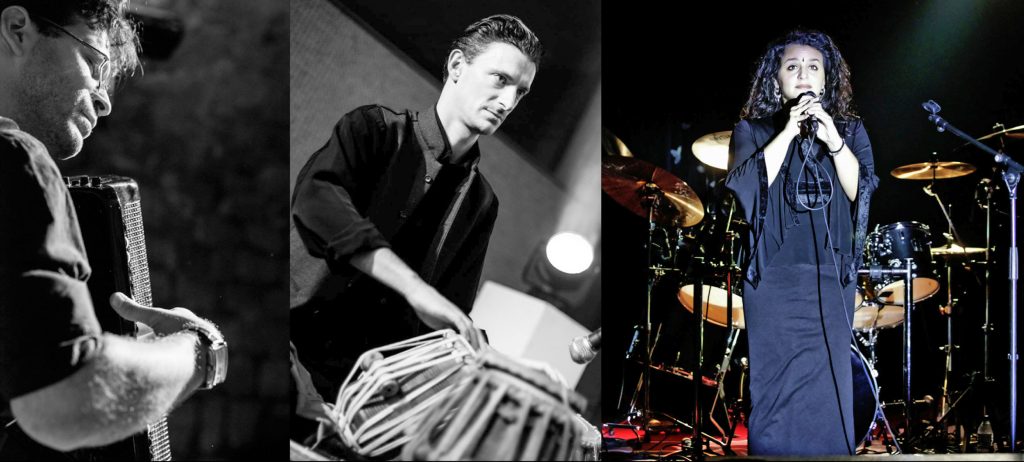 The aim is to propagate the message that beneath language and the understanding of a language, beneath belonging to a cultural group or a party, beneath religious and spiritual beliefs, there is an individual with a life made rich by experiences, feelings and story(ies). That is a human being.
The human being is the other, but also oneself.
The human being is all that unites us to the Other.
Whatever be the language that we speak, we say the same thing.
In the show, we will speak about love, birth, life, death, music, joy, sadness…
What language did this old lady speak?
We will never know; but is it important to know?
There was once a meeting…
An old lady walked slowly towards a young singer in a street.
With eyes fixed on her, she held her hands and started to talk to her…
Unfortunately, the young singer didn't understand her language.
She dared not tell her about her incomprehension.
She decided to let herself be transported by the soft melody of that unknown tongue of the old lady as though those words could become music notes… and then visuals…
On March 15th, Mazel b. is here with all the memories of that meeting…
She will whisper them into your ear… with emotions, with love…
And if you don't understand her language, never mind…
Let yourself be carried away! Imagine…!