Date/Time
Date(s) - 11/10/2014
10:30 am - 4:00 pm
Location
Edouard Michelin Auditorium - Alliance Francaise of Madras
Categories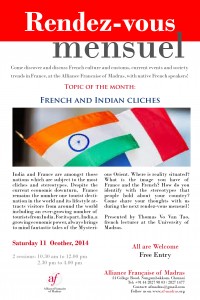 Saturday, October 11th, 2014
2 sessions: 10.30 am to 12.00 pm
and 2.30pm to 4.00 pm
@Alliance Francaise's Media Library
One saturday a month, The Alliance Francaise of Madras hosts 'Rendez-vous mensuel', an informal discussion in French on a previously defined topic. Take the opportunity to discover and discuss French culture and customs, current events and society trends in France, with native French speakers!
Come and join us!
FREE – OPEN TO ALL
October Topic:

FRENCH AND INDIAN CLICHES

India and France are amongst those nations which are subject to the most cliches and stereotypes. Despite the current economic downturn,  France remains the number one tourist destination in the world and its lifestyle attracts visitors from around the world including an ever-growing number of tourists from India. For its part, India, a growing economic power, always brings to mind fantastic tales of the Mysterious Orient.

Where is reality situated?
What is the image you have of France and the French? How do you identify with the stereotypes that people hold about your country?

Come share your thoughts with us during the next rendez-vous mensuel !

Presented by Thomas Vo Van Tao, french lecturer at the University of Madras.