Date/Time
Date(s) - 05/11/2014
7:30 pm
Location
Sir Mutha Venkatasubba Rao Concert Hall, Lady Andal School
Categories
"3", being more than two and yet, less than four is a very satisfactory number. Times, just as in "Once upon a time", from all the books with or without pictures… And "nothing", a bit of nothing much but far far more than far too much…
3 X RIEN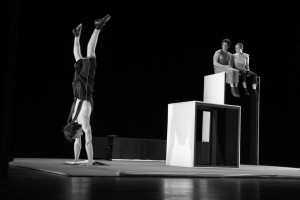 In this dramatic production, the three French artists Lenaïg Fannière, David Cluzaud, and Pierre Cluzaud, will take to the stage with their unique fairy setting and costumes to enthrall and enchant the audience. The three of them make up "Trois Fois rien" or "Three Times Nothing", essentially a circus company.
These acrobats break the traditions of professional circus as we know it, to bring to you their magnificent production.
The show is a dazzling meeting between three characters: they seem to come from another time, they are the kind whose bodies shoot up but who continue wearing childhood's wisdom – and its multicolour pants. Moves and music are smoothly coordinated, thanks to a magical clarinet, played by a graceful girl while the mischievous twins try in vain to distract her and tease out her secrets … Throughout the show, the acrobats will use several accessories, each more astonishing than the other. The chances are all eyes will be grabbed by these big boxes on which the artists will try to keep their balance, swinging from a side to another, dangerously flirting with the edge…  They climb up on high or hide themselves away in secret spots. Then they jump out of their boxes like demonic jacks-in-the-box and throw themselves into competing for the spot of 'Most Audacious'.
Constantly working at pushing their boundaries, they bring to you a show that promises a poetic circus with scenes like you've never seen before.
A promising show… Join us on the 5th of November !
FREE AND OPEN TO ALL
Passes available at the reception of the Alliance Française of Madras
Have a look at their website: http://www.cie3foisrien.net/1r2p.html
7:30pm | 5th of November | Sir Mutha Venkatasubba Rao Concert Hall, Harrington Road, Chetpet