Date/Time
Date(s) - 14/02/2016
7:15 pm
Location
Edouard Michelin Auditorium - Alliance Francaise of Madras
Categories
A SYNOPSIS :

First written by Alexandre Dumas and later rewritten to adapt to the then new audiences a century later by Jean Paul Sartre, this play is about the third of the original perpetuators of Shakespearean actors.
After Richard Burbage, who was trained by Shakespeare himself and then David Garrick, there was a void in quality actors for some time. This was until a relatively unknown Edmund Kean burst into the scene during the late 1700s and ruled the stage till the early 1800s.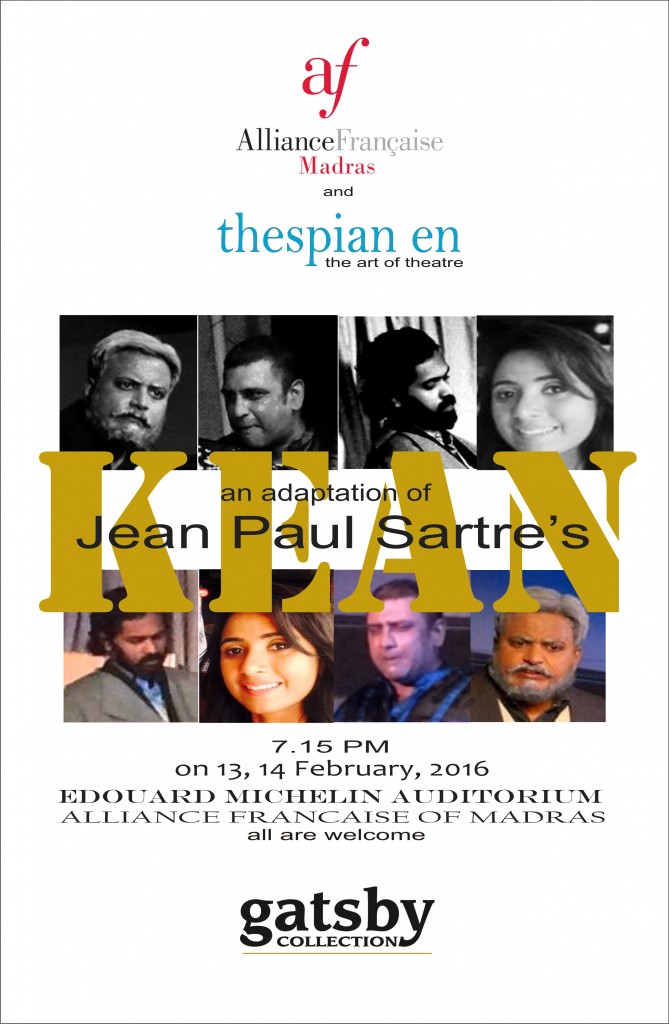 Kean the actor was a true entertainer who created Shakespearean roles in his unique style – 'with flashes of lightning' as was said by the then critiques. His acting had no parallel during his time and he quickly rose from his impoverished childhood to the echelons of society and fame to be pronounced the greatest actor in the world. He drew audiences in the thousands and also drew out performances that surpassed all. Right through his acting career, with his awesome talent, he had given the various audiences more that what they had paid for.
In time, his lifestyle and habits took their toll. His debts accumulated and his affairs doubled. He passed away on stage while performing the role of Othello across his son Charles who had donned the robes of Iago.
Alexandre Dumas drew a similarity between his life and that of Kean's in that the two of them were geniuses but spend their last days without love or money.
This adaptation in one Act and portrays the life of the eccentric but genial Kean, what with his vagarious habits – of women and wine, both of which he had had in access. It is well segmented into three parts pronouncing humour in the first as he interacts with his 'Factotum' Solomon. Solomon tries in vain to influence Kean, warns him to trim his expansive lifestyle and his love affairs in the background of his huge debts until the entry of his companion and friend in all his vagarious endeavours, the Prince of Wales, who tells Kean of the damage that his current affair is doing to the ties between England and Denmark. This segment is a serious interaction between the Royalty and an actor. Just when the subject gets very serious, a young, rich heiress enters the actor's dressing room. She, a great admirer of the actor, confronts him wanting to know if she has a chance to become an actress. What follows is a 'sublime to obscene' interaction where a drunk and desolate Kean pulls out his true nature.
The Players
Edmund Kean                    :               Ajit Chitturi
The Prince of Wales          :               Rajeev Anand
Solomon                              :               Sethu Darwin
Anna Danby                        :               Sruti Sai
Directed by                          :               Ajit Chitturi
Duration                              :               1 hour 15 minutes.