Date/Time
Date(s) - 28/02/2016 - 13/03/2016
9:00 am - 6:00 pm
Location
Alliance Francaise of Madras
Categories
Alliance Française of Madras & Chennai Photo Biennale with the support of Oman Air present
Photo Exhibition – A plague o' both your houses
By : Olya Morvan
Opening on : Feb 27th
Time : 5 pm @ AFM Gallery
Exhibition : Feb 28th – March 13th
Time : 9 am – 6 pm @ AFM Gallery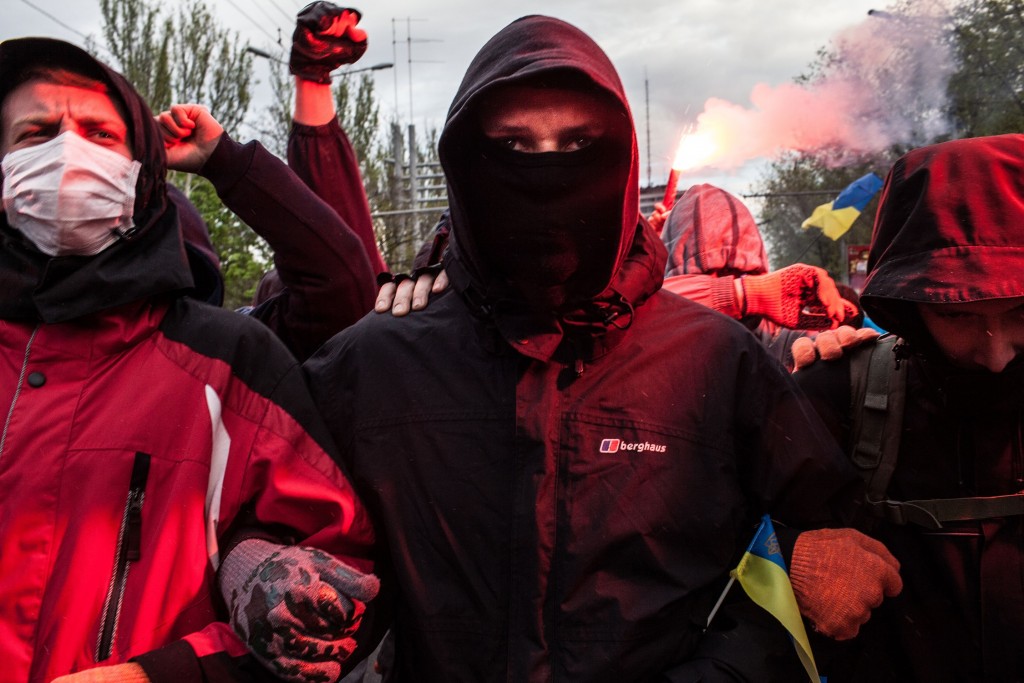 About the artist :
Olya Morvan was born in 1983 in Odessa, Ukraine. She received degree in economy and tourism from Odessa State Economic University. She is passionate about documentary photography and photojournalism. She has been developing her talent since 2012 with Yannick Cormier, Documentary Photographer (Trikaya Agency) and her influence include the classical photographers such as Henrie Cartier-Bresson, Josef Koudelka, Alex Webb. Olya's unique sense of composition was enhanced through her personal projects focusing on Metro of Chennai, the religious festivals in Tamil Nadu, India, and on the Buddhist Monks in and around Ladakh, India. She followed Minnal, a homeless woman, to tell her story with all its dignity, joy and sadness in a more intimate portrait of humanity.
About the exhibition :
Ukrainian identity was lost during Soviet Union time due to the forced Russification by one part of population, it has disappeared in GULAGs by another part of population, and it was treasured by some of Ukrainians for decades. Once USSR collapsed the country was ruled by thieves and corruptors for almost 23 years. Ukrainian society craved for changes. After weeks of peaceful protests the violence broke. A burning tire became the symbol of this revolution. Desire to fire. Desire to fire the past, the corruption, the social injustice. Euromaidan began on 21st of November with public protests demanding signing the European Integration agreement. Later it widespread as a protest against power abuse, corruption and violation of human rights in Ukraine. People hoped for the new European Ukraine. They protested for many weeks despite the extremely cold weather. Most of the violence was carried by the young protesters. The police tried to suppress the protests with extreme violence killing more than 100 persons mostly under age 25. After these tragic events Ukraine's beleaguered President Viktor Yanuckovych fled the country on February 22, 2014. As a result people voted for a pro-European president on May 25.
Ukrainian people seemed to have found new identity during Maidan, and the newly found identity was supposed to unite the nation, but then not every citizen of Ukraine felt that way: people got caught in between the Soviet Identity, which older generation still remembers, young people romanticise about, something they identify with Russia, and in the new Identity of Ukrainians, a nation who wants to belong to Europe. It is hard to see how Identities drive people apart, how it leads to the war. It is painful to see so much hatred, so much willingness to hurt…to hurt for being different. Are they different? Or they are just caught in between someone else's war…
The war lasts for almost two years, with more than nine thousand killed and one and a half million Ukrainians internally displaced; almost a million fled abroad.
Despite constant fighting and shelling along the line of contact the war is labeled a "frozen conflict".