Date/Time
Date(s) - 17/01/2014
7:00 pm - 9:30 pm
Location
Edouard Michelin Auditorium - Alliance Francaise of Madras
Categories
MSF (UN)LIMITED
A documentary on the real life of MSF/Doctors Without Borders
– 1999 Nobel Peace Prize Recipient –
followed by Q&A with
MSF's General Director, Martin Sloot
Friday 17th January, 7.00 pm
OPEN TO ALL – NOT SUITABLE FOR CHILDREN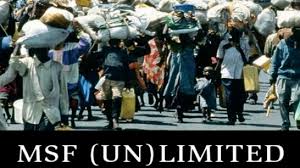 MSF (UN)LIMITED
52 minutes, in English
Lebanon, Democratic Republic of Congo, Rwanda, Serbia and Montenegro
MSF (Un)Limited is a film that captures intense emotional encounters that test 1999 Nobel Peace Prize recipient Doctors Without Borders/Médecins Sans Frontières (MSF)'s principles. Moving accounts of atrocities and humanitarian crises since the founding of MSF in 1971 are told using original footage with commentary by MSF staff. Staff are shown wrestling with their consciences, struggling with emotional involvement and receiving threats to their personal security. The film delves into the 'hows' and 'whys' of MSF's long-term work with HIV/AIDS patients and its Campaign for Access to Essential Medicines. It explores how MSF as an organization seeks to learn from its experiences, overcome constraints, innovate and speak out to uphold humanitarian principles. It is a story of the ongoing internal debate and self questioning by MSF when faced with the limits of humanitarian action.
During the Q&A, meet Martin Sloot, MSF's General Director at a Q&A after the screening. Martin Sloot has extensive field experience with MSF, having worked for MSF since 2001 in countries such as Afghanistan, Burundi, Columbia and the Ivory Coast. He is now the General Director of MSF's Institutional office in India, supporting MSF's medical work in the country.
Doctors Without Borders/Médecins Sans Frontières is an international medical humanitarian organization and provides aid to people affected by armed conflict, natural disasters, epidemics, and exclusion from health care in more than 70 countries, including 8 projects in India.
Watch MSF (Un)limited trailer
See more at: http://www.msfindia.in