Date/Time
Date(s) - 18/01/2016
7:00 pm
Location
Edouard Michelin Auditorium - Alliance Francaise of Madras
Categories
The Alliance Française of Madras in collaboration with Saint Gobain as AFM Gold Sponsor presents
INDO – CREOLE CONCERT
Free passes available at eventjini.com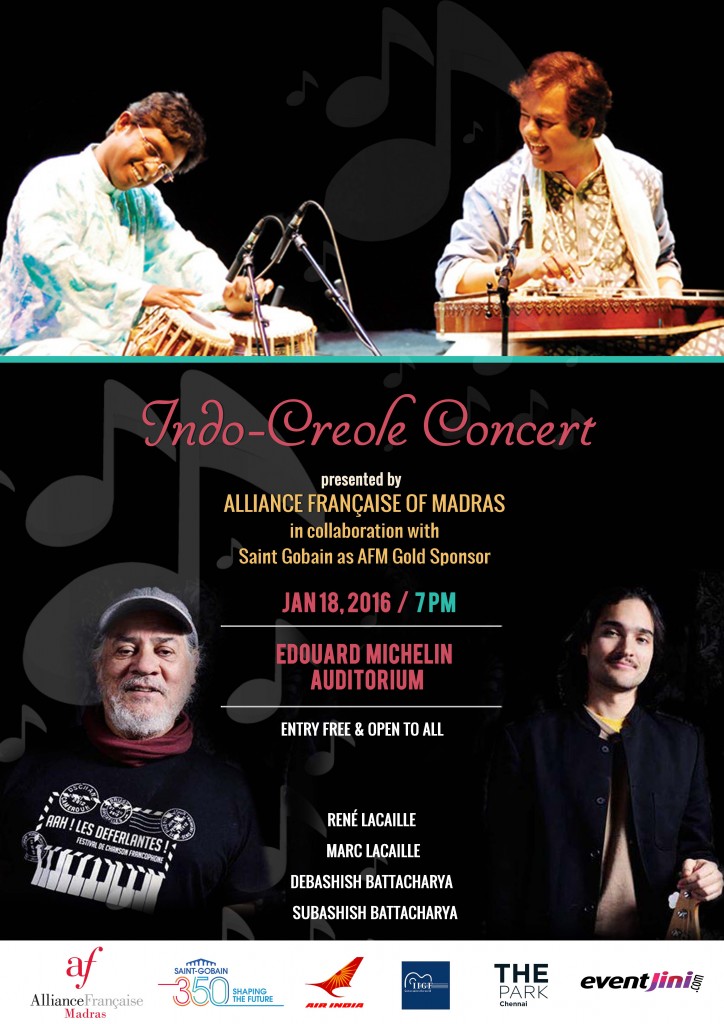 René Lacaille met Debashish and Subashish Battacharya during the edition of the Summer Festival in Quebec where he had been invited with his kids Marco and Orianne, at the initiave of Jean Beauchesne, who had already made him meet Bob Brozman. The meet goes back to the late 90's.
From that time, they met each other several times, especially in the Reunion Island to perform in the St Gilles Teat, at the Escales de St Nazaire festival, in Grenoble (MC2).
Battacharyas recorded Free Reunion for the Cordéon Kaméléon album(2009), Charles Cros Academy award winner.
Each meeting between the big masters of the slide guitars and tablas, and the natives of Reunion has been a surprising moment, Bengalis and creoles getting along so well to compose a cheerful and traditional music at the same time, with respect to the music and the tradition of each other, the natives of Reunion were impressed by the way the Battacharyas master the technique of the ragas and Hindustani songs, and the Bengalis were amazed by the innovation and richness of the improvisations by the musician from Reunion.
Debashish Battacharya was willing to invite René Lacaille,since a long time, to perform in India in a festival he would organize. However, the horrible consequences of the 2004 tsunami prevented the realization of this project. But he comes back for the 2° International guitar Festival (IIGF) organized in Calcutta in January 2016.
 The group:
René Lacaille, accordion and singer
Marc Lacaille, Bass and singer
Debashish Battacharya, Indian slide guitar
Subashish Battacharya, tablas
The group,composed as mentioned above, would perform pieces from each duo, each one sliding in the other's universe. A rare moment of real and beautiful music fusion, surprises, with respect to each one's tradition, with a shared sense of family and humour!