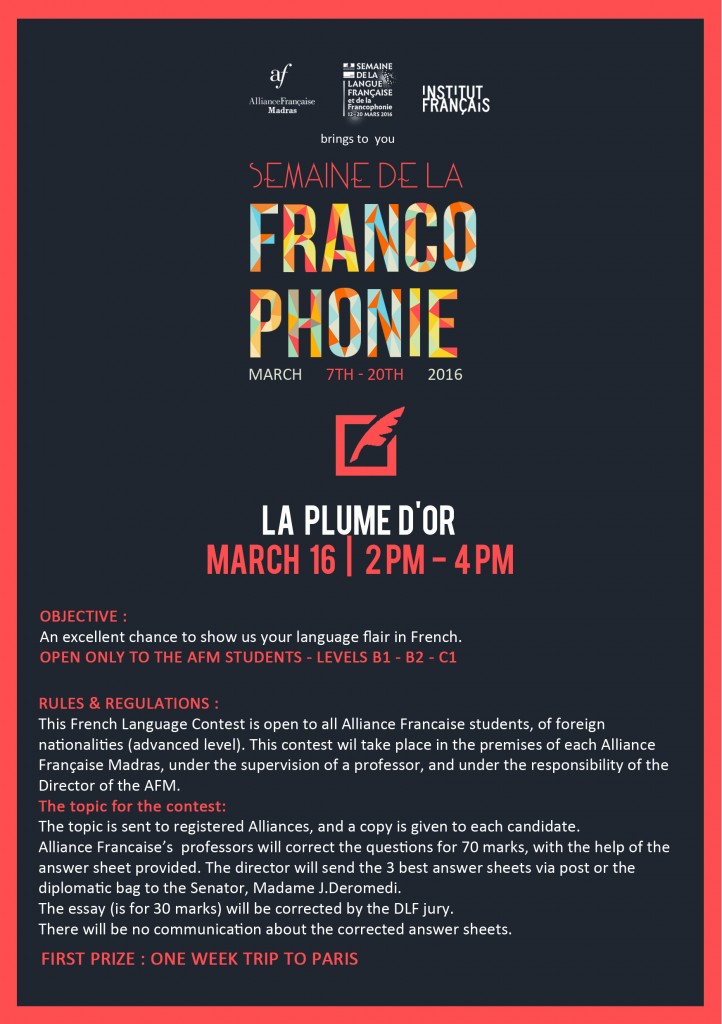 You could be the winner and win a one week trip to Paris in March 2017 !
Sponsored by the Senator, Madame Jacky Deromedi representing French Citizens residing outside France, the Defense de la Langue francaise association conducts since 2000, a contest for the students of Alliances Francaises.
CONTEST RULES
This French Language Contest is open to all Alliance Francaise students, of foreign nationalities(advanced level).
The contest will take place on Wednesday 16th march 2016 between 2 pm & 4 pm @ Class 101
This contest will take place in the premises of each Alliance francaise, under the supervision of a professor, and under the responsibility of the Director of the Alliance.
The topic for the contest:
The topic is sent to registered Alliances, and a copy is given to each candidate.
Who corrects the contest?
Alliance Francaise's professors will correct the questions for 70 marks, with the help of the answer sheet provided. The director will send the 3 best answer sheets via post or the diplomatic bag to the Senator, Madame J.Deromedi.
The essay (is for 30 marks) will be corrected by the DLF jury.
Prizes and Awards:
One week trip to Paris in March 2017 for the 1st Prize winner.
Diploma of Honour for the 100 best candidates.
An encouragement award for the rest of the candidates.
Click here to register yourself !