Date/Time
Date(s) - 07/06/2014
10:30 am - 4:00 pm
Location
Alliance Française's library
Categories
A monthly discussion with native French Speakers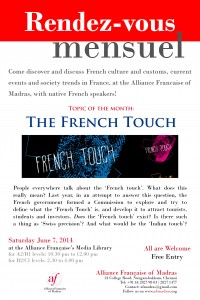 Saturday, June 7, 2014
for A2/B1 levels: 10.30 pm to 12.00 pm
for B2/C1 levels: 2.30 to 4.00 pm
@Alliance Francaise's Media Library
Every first saturday of the month, The Alliance Francaise of Madras hosts 'Rendez-vous mensuel', an informal discussion in French on a previously defined topic. Take the opportunity to discover and discuss French culture and customs, current events and society trends in France, with native French speakers!
Come and join us!
FREE – OPEN TO ALL
June topic: The French Touch

People everywhere talk about the 'French touch'. What does this really mean? Last year, in an attempt to answer this question, the French government formed a Commission to explore and try to define what the 'French Touch' is, and develop it to attract tourists, students and investors. Does the 'French touch' exist? Is there such a thing as 'Swiss precision'? And what would be the 'Indian touch'?
Alliance Française of Madras
No. 24 College road
Nungambakkam, Chennai 600006
www.af-madras.org