Date/Time
Date(s) - 27/03/2014
8:00 pm
Location
Edouard Michelin Auditorium - Alliance Francaise of Madras
Categories
This music edition of IndiEarth Onscreen is an inspiring collection of films that showcase the candid side of sitar maestro Pandit Ravi Shankar, traveling Sufi musicians across the length & breadth of India, and international music collaborations in Bangladesh!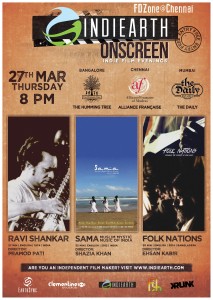 Film: RAVI SHANKAR
(India)
Filmmaker: Pramod Pati // 27 mins // Language: English // 1974// B&W
Genre: Bio, Music Documentary
From the archives, "Ravi Shankar" is a film portrait of the Sitar Maestro, depicting through a series of interviews and recitals his versatile personality as a well-known classical performer and a creative composer.
film: SAMA – MUSLIM MYSTIC MUSIC OF INDIA
(India)
Filmmaker: Shazia Khan // 52 mins // Language: English (subtitles) // 2013
Genre: Art / Artists, Music Documentary, Spiritual
The Muslim mystics have always upheld a revered position across the country, particularly for their indispensable impact on various musical traditions in India. While traditionally the Muslim mystics are associated with Sufism, their cultural influence transcends all religious and geographical boundaries. The principles and values of finding god in oneself, a sentiment reverberated in prayers within Hinduism and Buddhism as well, provides an inter-religious umbilical cord to variation of hybrid sounds that continue to influence the mystic musical traditions across India.
film: FOLK NATIONS
(Bangladesh)
Filmmaker: Ehsan Kabir // 30 mins // Language: English // 2013
Genre: Music Documentary
Folk Nations, organized by British Council, British Council Bangladesh, is an exciting programme aiming to bring together musicians, creative producers and practitioners from the UK and Bangladesh. The project is connecting musicians and practitioners in order to create a dialogue and provide the space to learn from each other's culture and musical traditions, foster collaborative working and inspire the creation of new projects.
In an effort to promote non-mainstream independent cinema, through regular screenings across various cities of India, IndiEarth OnScreen was launched in Chennai and more recently in cities like Bangalore and Pune. Featuring a mix of Indian and international films by independent filmmakers with film categories that will include shorts, documentaries, docu-dramas, and full length features, promising audiences films that are not otherwise readily accessible to the public. IndiEarth also represents FD ZONE, Chennai as a part of Films Division's exclusive cinema clubs across Indian cities. 
https://www.facebook.com/indiearthindia