Date/Time
Date(s) - 12/10/2016
7:00 pm
Location
Rukmini Arangam, Kalakshetra
Categories
ALLIANCE FRANÇAISE OF MADRAS in association with THE ANNETTE LEDAY / KELI COMPANY
and with the support of Saint-Gobain as AFM Gold Sponsor, The Park, Chennai as Hospitality Partner & Eventjini.com as Online Partner
present a dance performance
 MITHUNA
By THE ANNETTE LEDAY / KELI COMPANY
Entry free and open to all ! Free passes available at the reception of AFM and on eventjini.com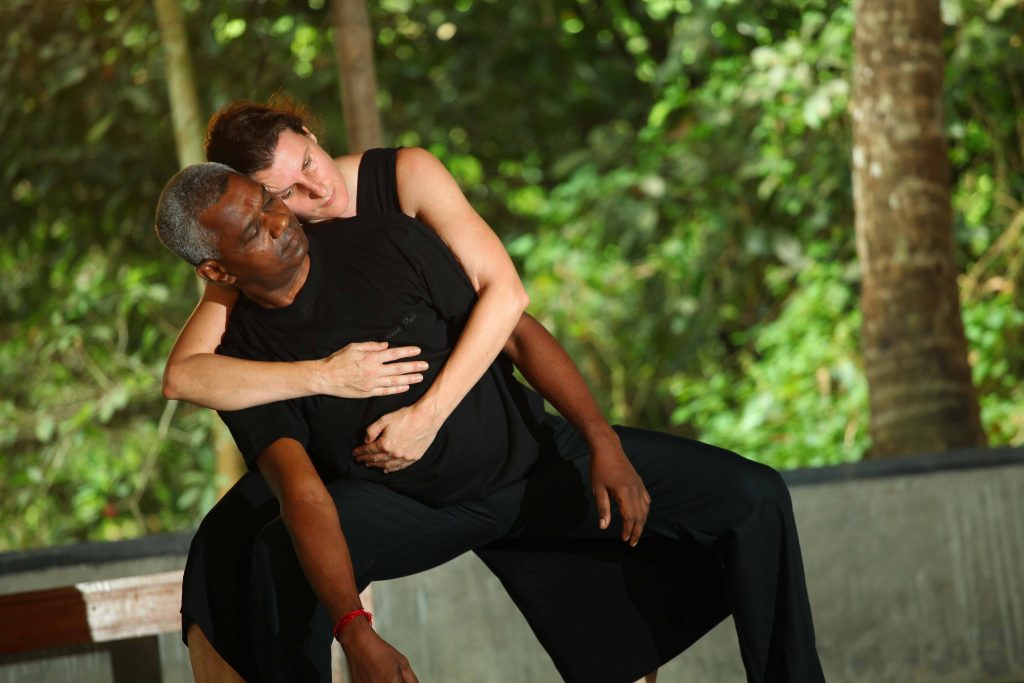 It is a meeting between two cultures, France and India, creating an original inter-cultural show with French contemporary creation and Indian traditional dance and theater. It is a fusion performance, mixing French and Indian universe to create a new artistic style.
It is performed by three artists, Hélène Courvoisier, K. Unnikrishnan Nair and Sadanam Manikandan and choreographed by Annette Leday from La Compagnie Annette Leday/Keli.
Annette Leday is the director and choreographer of La Compagnie Annette Leday/Keli who specialised in inter-cultural contemporary creation, with a focus on the dance and theatre traditions of India and France. After training as an actress in France, she journeyed to India in 1978, studying Bharatanatyam and Kathakali in Chennai. She then spent several years in rural Kerala, practicing and performing Kathakali with the Sadanam and Kalamandalam institutions.
La Compagnie Annette Leday/Keli has became famous with their creation of Kathakali-King Lear. This Shakespeare's adaptation was realised with the help of renowned Kathakali master at the time. It has been played more than 70 times in Asia and Europe during big festival (Edinburgh, Shakespeare's Globe etc).
Mithuna was presented during IGNITE! festival at Delhi, on January 2015. it was also performed at the famous Théâtre du Soleil on April 2015.
Choreography: Annette Leday
Dancers: Hélène Courvoisier, Kalamandalam Unnikrishnan Nair, Sadanam Manikandan
Music: 'Suites pour violoncelle' from J.S. Bach by Pieter Wispelwey, Chenda percussions by Kalamandalam Unnikrishnan
Text extract: « Les Marches du Vide » by Lokenath Bhattacharya
Voice: Annette Leday