Date/Time
Date(s) - 29/11/2014
7:30 pm
Location
Edouard Michelin Auditorium - Alliance Francaise of Madras
Categories
Finest French chamber music concert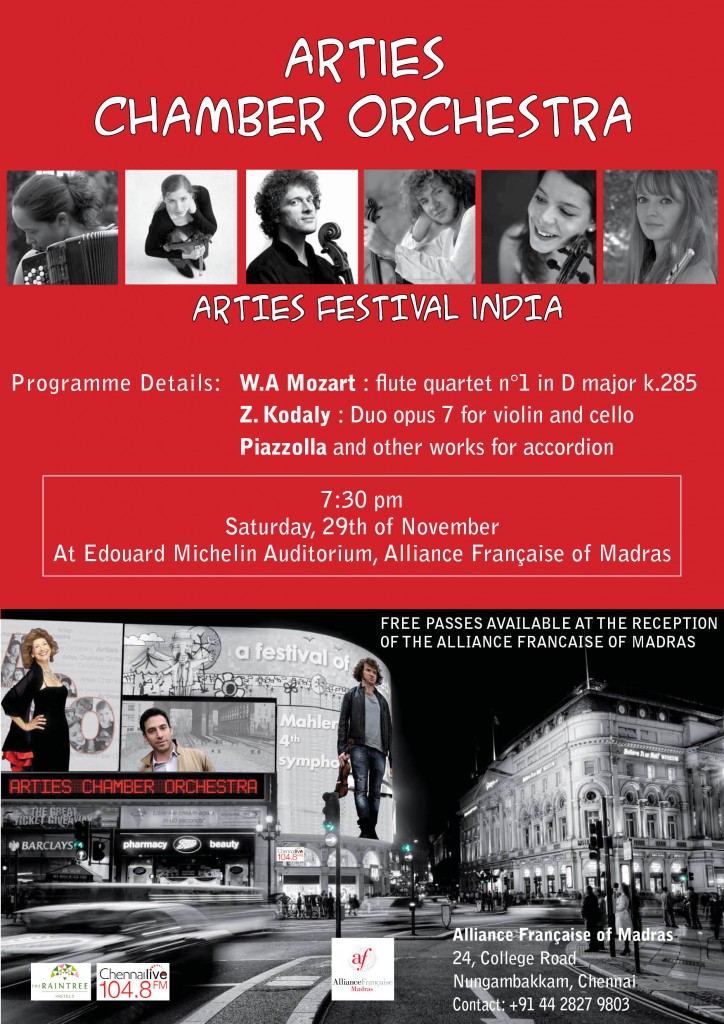 Now in its 14th edition, "Arties Festival" will be at the Alliance Française of Madras on the 29th November.  It was after his first visit in India that Gauthier Hermann, renowned cellist and Director of Arties Event Management, fell in love with the country and decided to create a festival to bring and share the finest chamber music from France.
The 'Arties' bring to you for the year 2014, 6 musicians who will perform in 3 parts, having you listen to a flute quartet,  violin and cello, and few works for accordions.
The programme details are as below:
 W.A Mozart : flute quartet n°1 in D major k.285
Allegro
Adagio
Rondo

Z. Kodaly : Duo opus 7 for violin and cello
Allegro serioso, non troppo
Adagio
maestoso e largemente, ma non troppo lento
Interval
Focus on the Accordion
F. Angelis : «Brel-Bach»
History of Tango by PIAZZOLLA
J. Achron : Hebrew Melody op.33
A. Piazzolla / J. Mienniel : «Seul tout seul»
A. Piazzolla «2 seasons»: Otono porteno, Primavera portena
Artists : Mathilde Borsarello Herrmann (Violin), Marie Chilemme (viola), Pierre Fouchenneret (violin), Fleur Gruneissen Fouchenneret (flute), Aude Giuliano (accordion), François Salque (cello).