Summer Festival
March – May
France and India enjoy a substantive partnership at the core of which lie its people-to-people relations, nurtured for decades through collaborations and exchanges. One of its manifestations is the regular rendezvous between our two countries, Bonjour India. This artistic, cultural, educational and social initiative is an Indo-French moment put together by the French cooperation network in India mainly comprising of the Embassy of France and its cultural service, Institut Français en Inde, the Alliance Française network and the Consulates of France.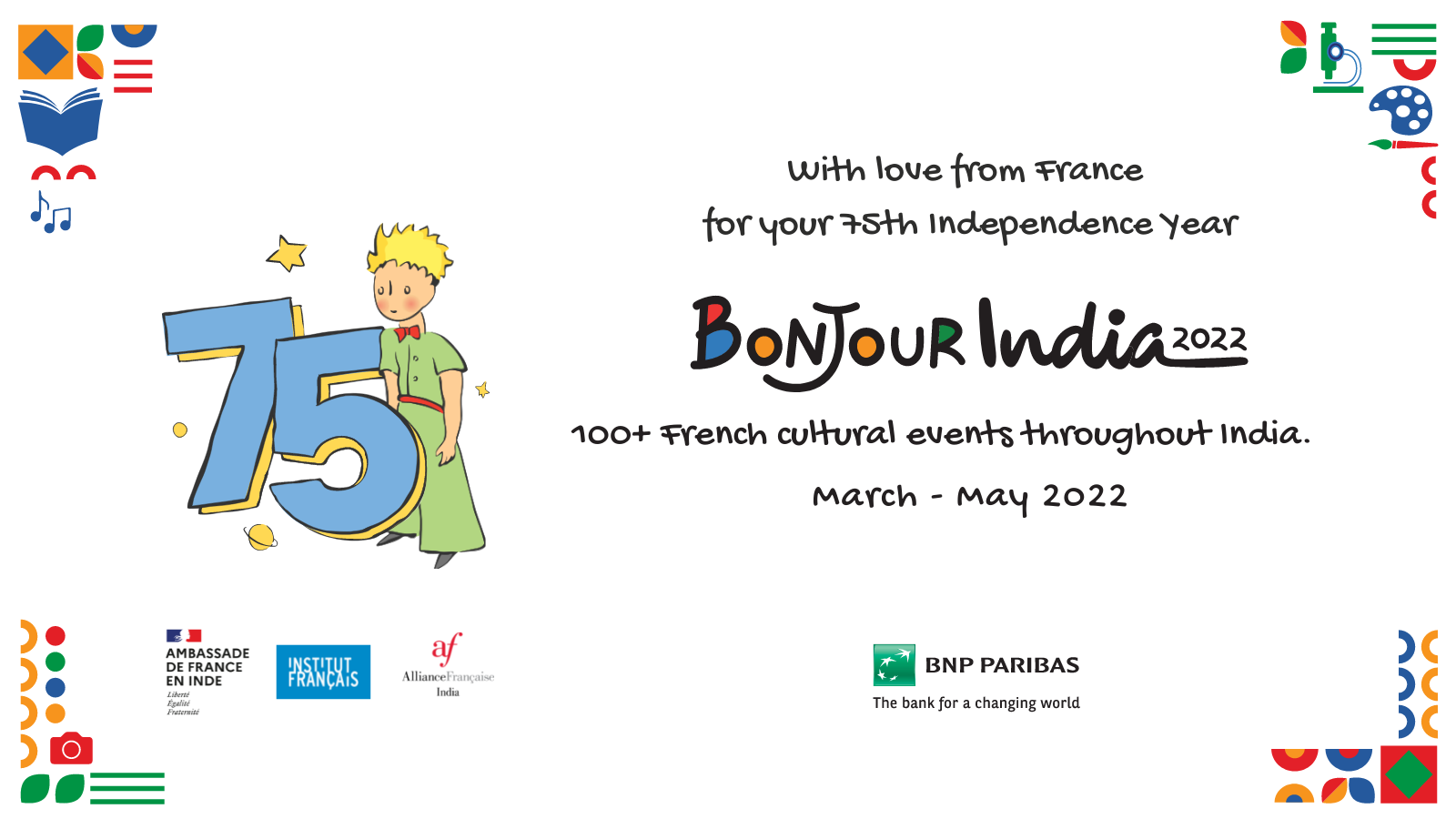 A Twist of Fate – Giants put the show in your streets | 1st April 2022
Combining drama and the visual arts to tell stories, the company use sculpted objects as a narrative tool. By speaking a language accessible to all, Les Grandes Personnes and their Indian friends create new relationships between the audience and the show and invent new ways of making sculpture dance in the streets!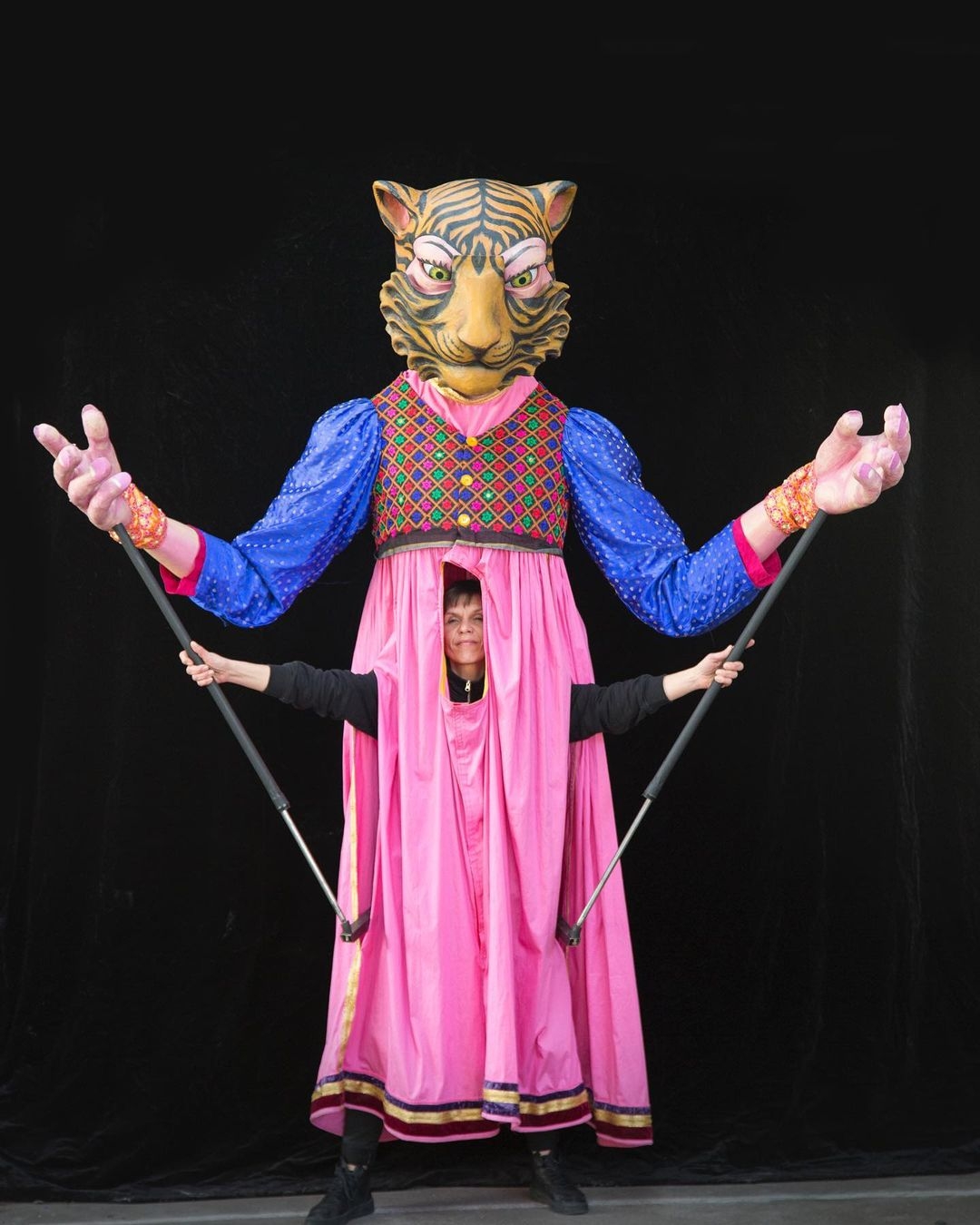 Les Grandes Personnes are known for bringing giant sculptures to the public in a fusion of visual art and theatrical expression. These giants were constructed during a residency in Puducherry in March 2020 with the participants, students in Theatre of the University of Puducherry and pupils from Calvé College. The scenario stars a strange family composed of two children, young boy Chinaa and Meenu, a little girl who sometimes looks like a tiger, and parents, handsome Karna and ghost-like Kanchana. A parakeet draws astrological cards that will change their fate…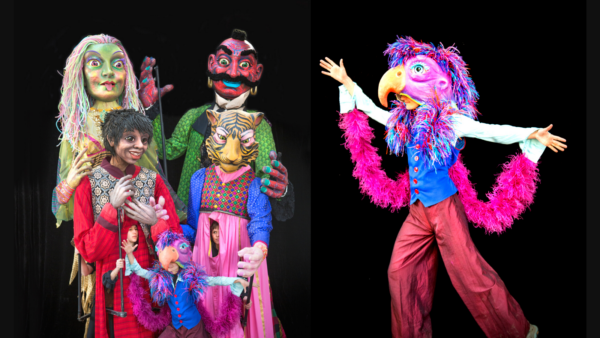 A street parade and show by Les Grandes Personnes – a company from Aubervilliers in France supported by DRAC Île-de-France, Région Île-de France, the city of Aubervilliers and Villa Mais d'Ici.
Event date: 1st April 2022
Time: 6:30 PM
Venue: Phoenix Marketcity, Chennai | Phoenix Market city, Chennai supporting this program as a venue partner.
Electrik Pô – Urban electric jazz | 22nd April 2022
The well-known music producer Fuzzy Logic comes back to India with two talented musicians he met in France, his adoptive country! They present a powerful ethnic-electro performance, mixing electronic and organic sounds.
Image © Stéphane Chassignole
With influences ranging from the smooth, ambient electro of Niels Petter Molvaerd to the weighty, Lo-fi sounds of Massive Attack or Portishead, the band fuses an orientalist melodic approach, comparable to the style of Ibrahim Maalouf with the rhythmic adventurism of the Balkan Beat Box collective. On stage, Electrik Pô brings to light this contrast between today's urban, hyper computerized world and the organic animal that always lives within us.
Tour produced by : Gatecrash and Jazz in India | Supported by Exodus
Po is the name of the panda in the film Kung Fu Panda who serendipitously becomes a kung fu master in spite of all odds. The name Po embodies this spirit of chance or fate that brought three musicians from vastly different backgrounds together. Add some electricity to this combination and you have Electrik Pô! The music of Electrik Pô reflects perfectly the symbolism of this "Electric" Panda in the physical form of Buddha embodying Strength, Softness and Peace, while the soul (Po meaning "Soul" in Mandarin) is festive and in constant moth on. It presents a vision of the world as it is today, still wild, animalistic and hyper urban.
Artist Line Up
Arfaaz Kagalwala
Drums, electronics, vocals
Florent Silve
Double bass, electric piano, vocals
Martin Saccardy
Trumpet
Event date: 22nd April 2022
Time: 8 PM

Venue: Savera, Bay 146 – Chennai
Save the date. Entry Free!
Club rules applicable – Dress code: Smart casuals, Shoes compulsory, Cocktail charges applicable.
[In]Chorus
Strings Together | 27th April 2022
A fusion of Kora, Guitar and Tabla
As part of the fourth edition of Bonjour India festival, Alliance Française invites famous Kora player from Mali, Chérif Soumano along with Shahnawaz Ahmed, an incredible classical guitarist & Shahbaaz Khan, a traditional tabla player from India.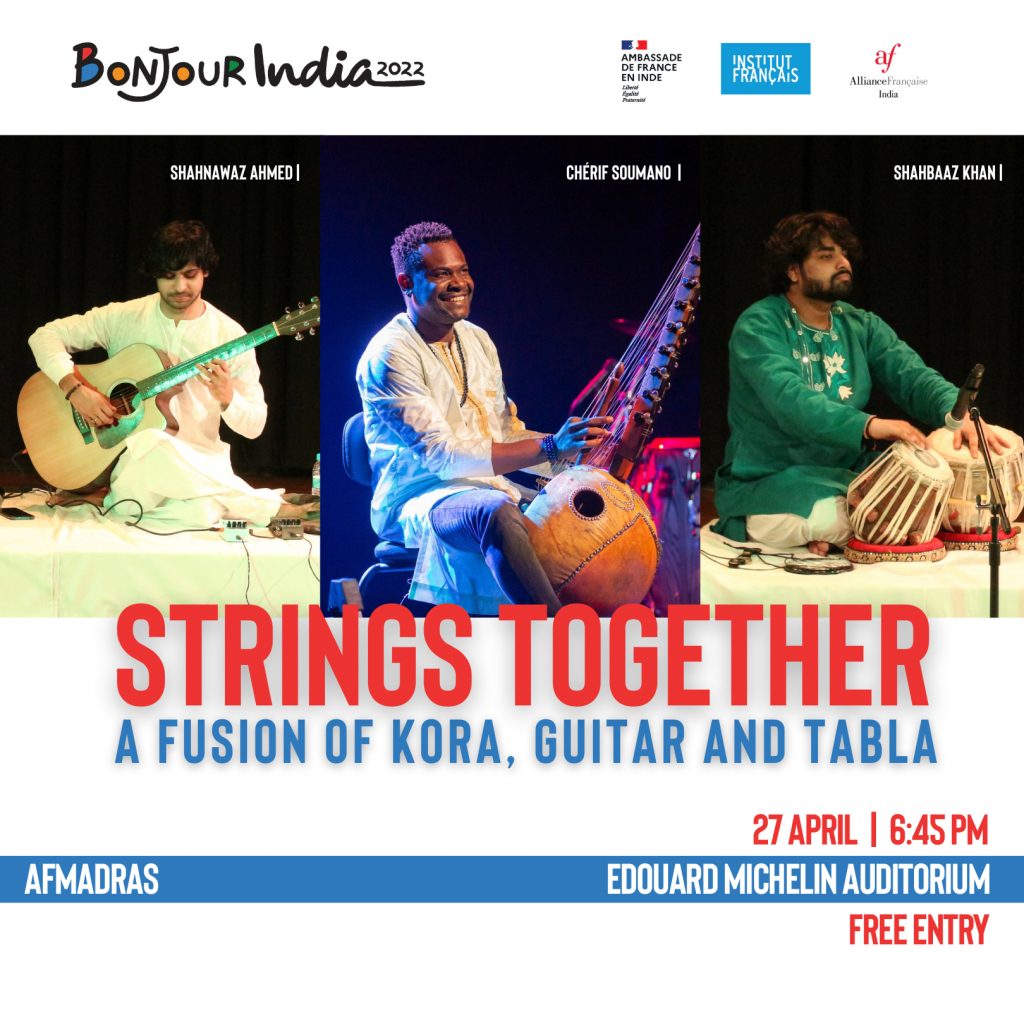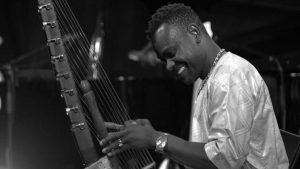 Chérif Soumano is a rising star of the Kora; he offers music of his time while being deeply rooted with the traditional repertoire that his father transmitted to him in Mali. He has performed with Dee Dee Bridgewater, Tiken Jah Fakoly, Roberto Fonseca, co-founded the World Kora Trio and recorded for Marcus Miller. He is undoubtedly one of the most talented and promising Kora players of his generation by his talent to communicate musically with all types of music, without mentioning his exceptional virtuosity coupled with great expressiveness.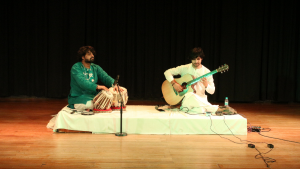 Shahnawaz Ahmed is quite an unusual classical Indian musician, playing various styles on modern guitar with unique technique and incredible ease. Accompanied by the young talent Shahbaaz Khan at the tabla, they will present their respective traditional repertoire, as well as some pieces resulting from their residency, which took place at the Alliance Française de Delhi.
[In]Chorus is a musical platform created by Alliance Française de Delhi for the promotion of promising young musicians of all genres, Indian and French, through residencies, concerts, meetings and workshops. The idea of this platform is to encourage a talented Indian musician to participate in the development of a musical project or to strengthen an already existing collaboration with a Francophone artist.
Event date: 27th April 2022
Time: 6:45 PM
Venue: Alliance Française of Madras Auditorium
Convergence | 6 – 19th of May

A Panorama of Photography's French Connections in India
An exclusive photography exhibition presenting works of prominent French photographers who have traveled & lived in India from the mid-nineteenth-century to the 1970s.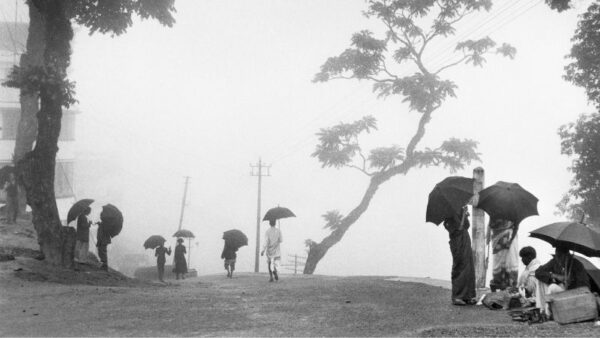 How did French as well as Indian photographers perceive India over two & a half centuries of its history? In this exhibition, different visions of French as well as Indian artists who travelled or lived in India from the mid-19th century to the 1970s will be showcased through the medium of photography.
Among all these intrepid travellers, writers, journalists, photographers and artists, discover the works of notable French photographers such as Louis Rousselet (who came to India in the mid-nineteenth-century), Marc Riboud (a celebrated French photojournalist who travelled all around Asia in the 50s), and many other works of modern European Masters such as Denis Brihat, Paul Almasy, Michel Séméniako, who took exploratory trips to  India from the 1950s onwards until the 1970s like the French-born American photographer Bernard Pierre Wolff.
Photography cannot change the world, but it can show the world, especially when it changes.
– Marc Riboud, French photographer (1923-2016)
A selection of 19th-century prints and negatives from the most prestigious French institutions (The National Museum for Asiatic Arts – Guimet, Musée du Quai Branly – Jacques Chirac, Musée Nicéphore Niépce Museum, Maison Européenne de la Photographie and Musée Goupil – Ville de Bordeaux) will be showcased for the very first time in India.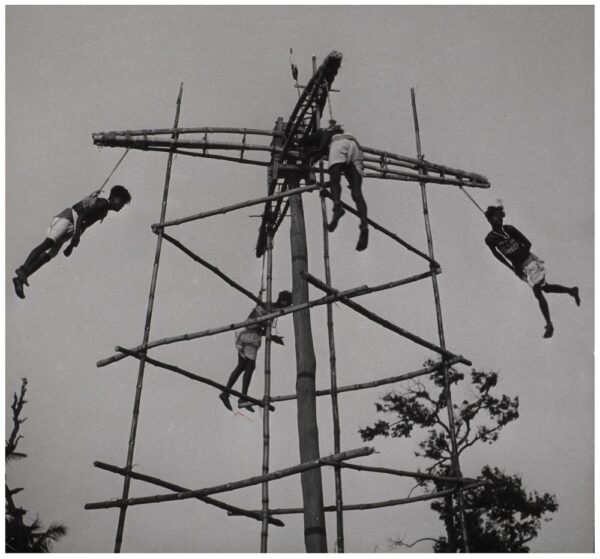 The original photographs will be on view at the Kiran Nadar Museum of Art in Delhi, the reproductions will travel across 5 different cities in India and will be on display in the form of outdoor exhibitions.
Event date: 6 – 19th of May 2022
Time: 10 am – 4 pm
Venue: Egmore Museum, Chennai
'By researching archives in France as well as India, this project hopes to think about geography, identity and 'place-making' as part of a larger cultural exchange wherein we may question belonging, origins and the interdependence between people from across the world'
Rahaab Allana, Curator, Alkazi Foundation for the Arts