Date/Time
Date(s) - 18/02/2018
7:30 pm
Location
Sir Mutha Venkatasubba Rao Concert Hall, Lady Andal School
Categories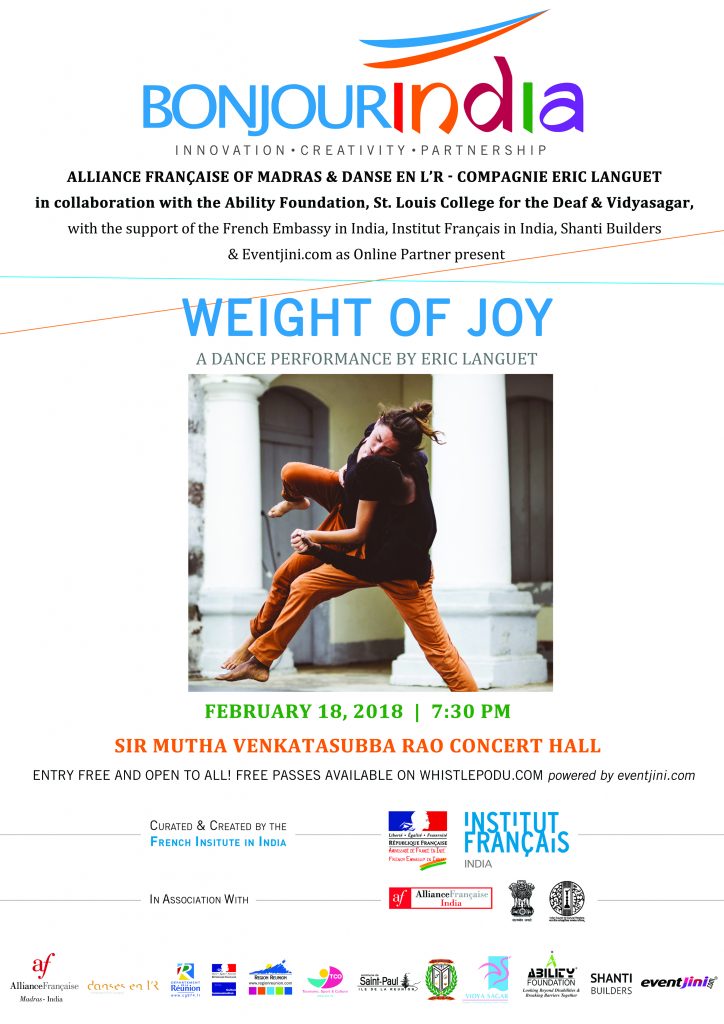 Entry free and open to all! Free passes available on WHISTLEPODU.COM (powered by Eventjini.com)
The Weight of Joy is a dance project tackling the notion of handicap and social innovation. Through French choreographer Eric Languet's benchmark work with dancers with disability, Bonjour India explores new ways of promoting positive action for disabled people.
Joy is not blissful ignorance, nor a denial of reality. Rather, to quote philosopher Nicolas Go, 'joy assumes both finitude, barbarism and evil, setting up before the outbursts of violence its silent power, recalling the perfection of which man is capable.'
The Weight of Joy is a collaboration between European and Indian dancers, including dancers with hearing disability. Drawing from the friction of these different cultures, this work attempts to discover the foundation and the conditions for the emergence of joy, be it individual or collective On the borders of movement, text and music, this joyful and chaotic play will reconcile ourselves with the human species and all its ironies.