Date/Time
Date(s) - 09/01/2014
4:00 pm - 5:30 pm
Location
Edouard Michelin Auditorium, Alliance Francaise of Madras
Categories
Conference in English – Open to all
A conference on liberty of the press by acclaimed French journalist, Frédéric Pagès
Frédéric Pagès has been working as a journalist for 'Le Canard Enchaîné' for the past 20 years. He has written many humorous editorials, such as 'The diary of Carla B.' and 'Interviews Imaginaires'. A former teacher in Philosophy, Pagès founded the group 'Botul', in 1996. The group is of surrealistic inspiration, focused on Jean-Baptiste Botul's thoughts, a mysterious thinker "of whom we know nothing about".
During the 90's, Pagès was the singer of the band "The Dead Pompidous". He notably wrote, 'Descartes and the cannabis', 'Philosophy or The Art of Keeping Women's Mouth shut', and also published "The Sexual Life of Emmanuel Kant", which was attributed to Botul.
What is Satire? Could we laugh at everything?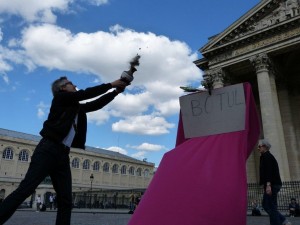 For almost a century now, 'Le Canard Enchaîné' has cultivated satire. Today, while the print media is in the midst of a crisis, this weekly paper is in excellent health, following its atypical business model (no advertisements). In addition to information, readers find within its pages a certain tone and wit often referred as "typically French".
How do you mock Politics? Could we mock at everything? Through the 'Botul' stories, Pagès demonstrates how even philosophy is not immune to mocking; thinking makes one laugh, and laughter makes one think. In these circumstances, perhaps we could laugh at (almost) everything?