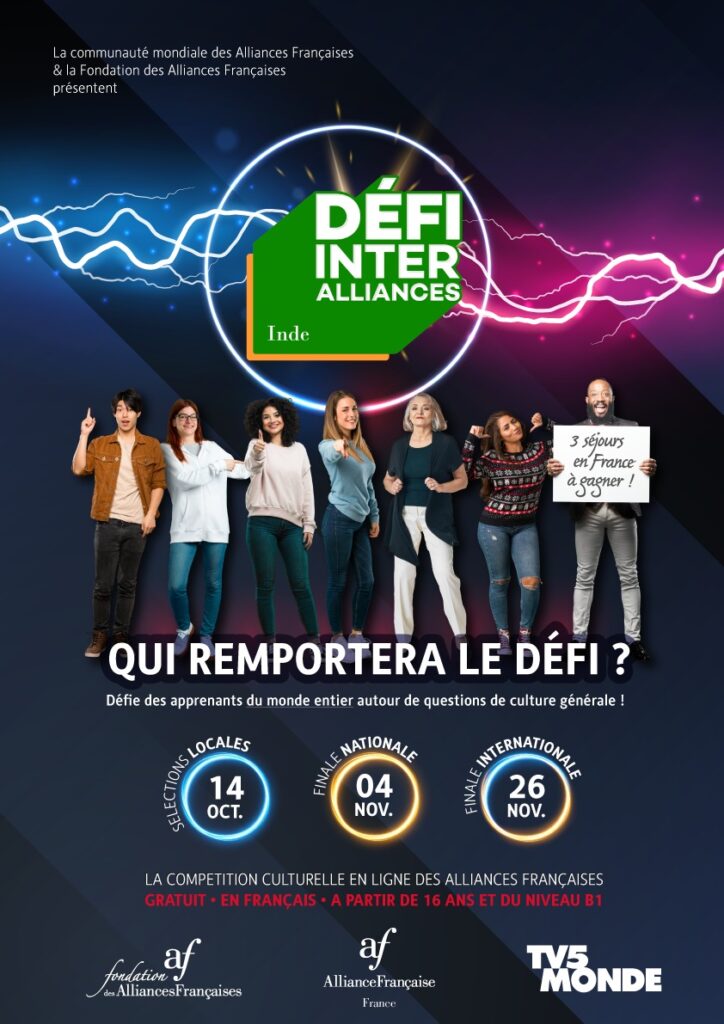 This year, the Alliance Francaise network in India and Nepal is participating in a worldwide contest in which the Alliance students of AF from different countries will face each other by answering questions about French culture: art, gastronomy, history, and language.
In this second edition, the contest is international, and more than +35 countries participate. It will be organized with two online tools: Zoom and Kahoot.
This contest will follow three phases:
In the first phase, local pre selection among the participants of each Alliance Française :
– Friday 14th of OCT 2022 , 7.00PM. [REGISTRATION UNTIL THE 10th OF OCTOBER]
Rules and regulations: Click here
Register here!
The two winners of each local AF pre-selection will go on to the INDIA national phase :
– Friday 4th of NOV 2022, 7:00PM, representing each Alliance Française in India.
The two winners of the national stage will finally meet on :
– Saturday, November 26th, 2022, for the international final, in which they will compete with students from all over the world!
What are the conditions to participate?
You can sign up for the contest if you are:
– Studying currently at least a B1 level in our AF center
– At least you must be 16 years old or older.
– Registration is strictly on a first-come first-serve basis
You must have 2 devices connected to the Internet:
– A computer for Zoom video conferencing.
– A smartphone to participate in Kahoot.
Prices of the national final (Indian/Nepal final):
– The 1st and 2nd winners of the Indian national final will participate in the International Final + Touch Screen Tablet.
– The 3rd ranked participant of the Indian national final will win a Touch Screen Tablet
– From the 4th to the 15th ranked participants of the Indian national final will win a selection of books
For the international final, the first three winners will be offered a 15-day language stay in one of the Alliances Françaises de France partners of the competition:
– Aix-Marseille Provence
– Bordeaux
– Cavilam – Alliance Française (Vichy)
– Lyon
– Montpellier
– Nice Côte d'Azur
– Paris ile de France
– Rouen Normandy
The three winners will choose, according to their ranking, the city in which they wish to go. The winner with the most points at the end of the international final will first choose the city in which he wishes to go, and successively. Once a city is selected, the next winner will have to opt for a different Alliance.