Join us at Alliance Française of Madras on 28th September, 2022 and meet the French writer – Cynthia Fleury.
From interactive sessions with contemporary writer to the serene yet vibrant air of our Alliance Française of Madras, we have everything to stimulate the creative and intellectual genius of your mind!!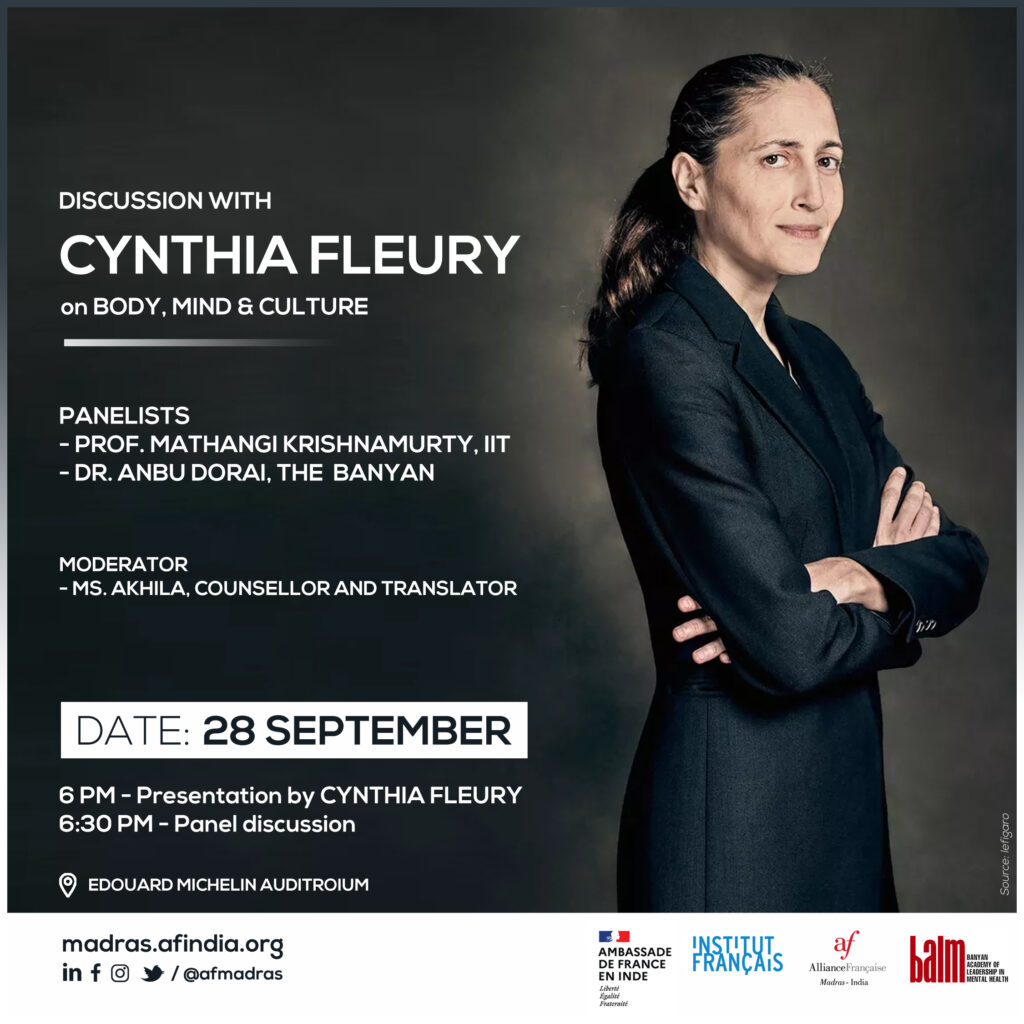 Cynthia Fleury, is a professor Holder of the Chair "Humanities and Health" | Holder of the Chair "Philosophy at the Hospital".
Conservatoire National des Arts et Métiers
GHU Paris Psychiatrie et Neurosciences
Associate Professor Ecole des Mines (Mines ParisTech Paris)
Philosopher and Psychoanalyst, Her research focuses on the tools of democratic regulation. She is the author of several books including Dialoguer avec l'Orient (PUF, 2003), Les pathologies de la démocratie (Fayard, 2005; Paperback 2009) and La fin du courage (Fayard, 2010; Paperback), 2011), The irreplaceable (Gallimard, 2015). She is the youngest member of the National Consultative Ethics Committee (CCNE). She is also a founding member of the European network of women philosophers of UNESCO.
Cynthia Fleury: "Without humanity, caring for patients simply becomes mere repair work" Full article
Panelists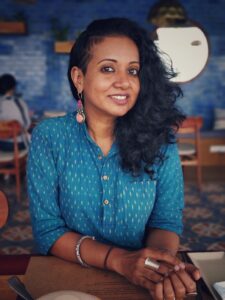 Prof: Mathangi Krishnamurthy, is Associate Professor of Anthropology at the Department of Humanities and Social Sciences, IIT Madras. She holds a PhD in anthropology from The University of Texas at Austin, and was an Andrew W.Mellon Postdoctoral Fellow at the University of Wisconsin, Madison. Her areas of interest include the anthropology of work and gender, and medical anthropology. Her book "1-800-Worlds: The Making of the Indian Call Centre Economy" published by OUP in 2018 chronicles the labour practices, life-worlds, and media atmospheres of Indian call centre workers. She has also been a columnist for the blog 3quarksdaily and The Hindu, and writes occasionally on cultural production and practices for popular press.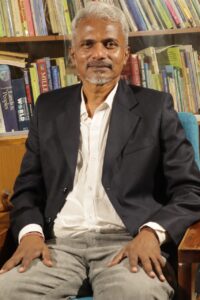 Dr. C. Anbudorai is a psychiatrist with a flare for working on community mental health issues. In 1983, he enrolled in M.B.B.S with JIPMER, Pondichery and followed it with a post graduate diploma in Psychological Medicine from NIMHANS, Bangalore. He joined M.D Community Medicine, in Madras Medical College in 1993. He has worked as a faculty in Para-medical institutions and as a psychiatrist in various corporate and charitable organizations. He has also done community health programs in Chennai. His research interests include issues of health, environment and socio-economic conditions of labourers. He is also deeply interested in developing multifaceted voluntarism among Youth and creating integrated collectives of young people working on various domains. Dr. Anbudorai believes in evolving empowered communities that live simply and sustainably with health, happiness, peace and prosperity.
BALM | BANYAN ACADEMY OF LEADERSHIP IN MENTAL HEALTH
About BALM: Since its beginning in 2007, The Banyan Academy of Leadership in Mental Health (BALM) has strived to bridge care gaps through the development of comprehensive mental health solutions and human service professionals. Research, Social Action and Public Policy influence have always been our pivots, as has building effective and ethical leadership in the mental health sector, sensitive to the needs of vulnerable individuals and communities. As a result, we have been involved in the training of key stakeholders engaged in governance and health care such as panchayat leaders, police officials and the judiciary. Similarly, our research studies have been centered around minority mental health and testing the efficacy of solutions that work in the context of those socially disadvantaged. A landmark study in this context resulted in the inclusion of people living with mental illnesses or disabilities within the Mahatma Gandhi National Rural Employment Guarantee Scheme (MNREGS) (Ravikanth, et. al.). From 2012 onwards, we partnered with the Tata Institute of Social Sciences (TISS) and other academic institutions on research and to run Masters programmes in social work in Mental Health and Applied psychology and further build young social and mental health sector leaders. BALM has, along with Masters level training, built capacity amongst nearly 650 people from diverse backgrounds (400 community mobilizers, social health coordinators, PhD Scholars, Mental Health leaders and 200 Masters levels mental health professionals) through multiple partnerships with University of Pennsylvania, the National Health Mission, The Panchayat Academy, Local State Governments etc.
The Banyan and BALM have remained steadfast to their commitment to improving the mental health of ultra-vulnerable groups through comprehensive psycho-social solutions and expansion of services by partnering with a wide range of stakeholders. Through the combination of practice, research and training, course content has been developed to support capacity building both nationally and internationally to promote mental health care and mental well being in low resource settings.
Moderator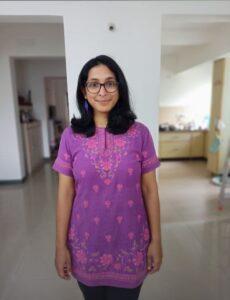 Akhila is a counsellor and a translator. She has completed her M.Sc Psychology and M.A. Translation and has been actively working in and pursuing further learning in both fields. Following her undergraduate degree in Psychology, she turned to translation and has been working as a full-time translator since 2013. She then went on to complete her M.Sc and has been a practising counsellor since 2019. She currently works with The Coffee shop Counsellor in Bangalore. She has managed to often combine both these interests in translating books and articles about psychology or mental health. She has translated two full-length books around psychology and psychiatry. Her dissertation for her translation degree also involved the translation of  French medical anthropologist Brigitte Sébastia's study of mental health and religious practices in South India.
In her work as a psychologist, in addition to blending techniques from CBT, person-centred therapy and positive psychology, she is careful to take into account each client's relationship with society and the world and the unique social oppressions, restrictions or privileges that have shaped each person's experience and mental map of the world and how they navigate it. She is deeply interested in learning and the mental health impact of socio-economic policies and the ever-growing exposure to polarized social media discourse and hate speech.